Newcastle Racecourse issues ban on picnics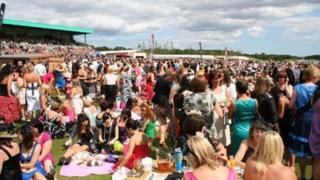 Picnics are to be banned at Newcastle Racecourse for supposed health and safety reasons.
At all fixtures, apart from the Blaydon Races, people will be prevented from spreading out rugs or eating in chairs.
The management team said picnickers' furniture created a "potential trip hazard".
But the Health and Safety Executive (HSE) said it was "puzzled", as the picnics did not breach any health and safety regulations.
Racegoers are to be offered more seated areas and additional food outlets in both enclosures.
'Interesting decision'
Executive director David Williamson said: "The decision has been made purely for the comfort and safety of all racegoers.
"The amount of people bringing in chairs, rugs, picnic boxes etc. caused space to be limited for the number of people attending the race days due to picnickers spreading out.
"The added furniture was a potential trip hazard and a few people reported to first aid because of this.
"People are under no obligation whatsoever to purchase food while in the racecourse grounds."
Judith Hackitt, the HSE chair, said: "I was interested to hear about Newcastle Racecourse's decision to ban picnics, but was puzzled about which health and safety regulations applied.
"The answer is none, so it is unfair to lay the blame for the ban at health and safety's door."
The decision has been criticised by one regular visitor to Ladies' Day who said that racegoers dressed up in their finery might not want to eat the kind of food offered by concessions.
Sue Nicholson, from Whitley Bay, said: "You can take a picnic to Glyndebourne, you can take one to Ascot, but you can't take a picnic to Newcastle Racecourse?
"Who do they think they are?"