Alan Barnes: Disabled mugging victim appeal raises £56k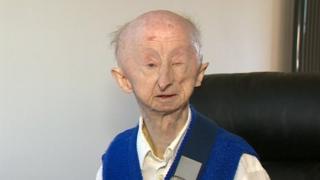 Well-wishers have donated more than £56,000 to help a disabled pensioner who was mugged outside his home.
Alan Barnes, 67, was left too afraid to return to his home in Low Fell, Gateshead after the attack on Sunday.
Mr Barnes, who is just 4ft 6in tall and visually impaired, broke his collarbone when he was pushed to the ground.
Following reports of the attack, which police described as "disgraceful", the Help Alan Barnes online donation page was created on the Go Fund Me site.
It was set up by beautician Katie Cutler, who wrote: "I was so upset that anyone could target a disabled pensioner and be so cruel.
"We can't take away what has happened but with a little donation we can make the future a prettier one and help towards the cost of his new home. Thank you all."
'Over the moon'
Her aim was to raise £500, but that was quickly passed and by 19:00 GMT on Friday, it had reached more than £42,000, with almost 3,500 people contributing.
By Saturday morning that figure had reached more than £56,000.
Ms Cutler said: "I'm surprised at how many people have donated and there's even people who haven't given money but shared it on and spread the word and that's helped a lot too.
"It's lovely how something so negative can end so positively.
"I can't wait for him to get it, I'm over the moon."
Nadeem Inayat wrote on the donation page: "I was very upset to have read that such a defenceless and frail old man was left feeling afraid to go back to his home that for all intents and purposes should be his haven and source of safety.
"I hope someone reads some of these comments to Alan and let him know that he is a very much loved man."
Mr Barnes is a well-known figure in Low Fell and is renowned for being able to quickly calculate a person's exact age in days using their date of birth.
He has lived with disabilities from birth after his mother contracted German measles when she was pregnant.