Beamish Museum pays tribute to Frank Atkinson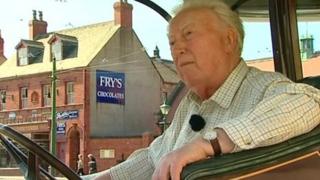 An open air museum in County Durham has paid tribute to its "inspirational" founder who has died at the age of 90.
Frank Atkinson came up with the idea for Beamish from visits to folk museums in Scandinavia.
Concerned the North East could lose its identity and traditions with the disappearance of industries such as coal mining and ship building, he began collecting every day objects.
He died on Monday after a lengthy illness.
The thousands of objects Mr Atkinson collected became the basis of the 350 acre heritage museum.
The popular tourist attraction, which welcomes more than 600,000 visitors a year, includes an Edwardian town, a colliery village and a farm.
Frank Atkinson and Beamish
1958 - becomes curator of Bowes Museum, raises the idea of an open air museum in the area
1970 - takes up post at Beamish Hall, sets up introductory exhibition
1972 - Beamish Museum opens
1978 - museum welcomes its millionth visitor
1986 - Beamish named British Museum of the Year
1987 - retires but remains President of the Friends of Beamish
Richard Evans, director of Beamish, The Living Museum of the North, said: "The word 'visionary' is often overused perhaps, but in Frank's case it really is true.
"He was a one off, a truly remarkable man, with boundless energy combined with a striking intellect and an infectious curiosity for history.
"He collected thousands of objects over the years, always interested in typical and everyday items that help tell the story of everyday life - stories that are so often overlooked and forgotten.
"His life's work was to preserve and study the history of everyday life in the North East and to present this story in a vivid, immersive and accessible way."