Barbour's Gateshead warehouse staff take further strike action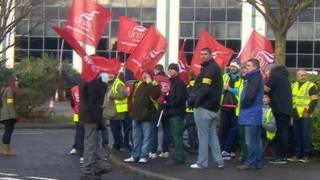 Warehouse staff at North East-based clothing firm Barbour have announced further strikes over proposed changes to working hours.
More than 130 people at the firm's operation in Wardley, Gateshead, are involved in industrial action over plans to introduce shifts.
Strikes began before Christmas and further action has been announced throughout January.
The firm said it was offering a "substantial pay increase".
The Unite union, which represents the workers, said strikes would be staged from 5 to 30 January.
The proposed shift patterns would be 07:00 to 15:00 and 14:30 to 22:30.
Unite regional officer Fazia Hussain-Brown said: "Many of the workers struggling to get by on less than the living wage are the sole bread winner and have family or caring responsibilities."
No-one from Barbour was available for comment the announcement.
The firm employs a total of 600 workers in the North East and it said earlier this month no other areas of the business were affected by the strike action.