Barbour's Gateshead warehouse staff launch strike action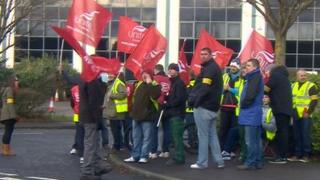 Warehouse staff at North East-based clothing firm Barbour have gone on strike over proposed changes to working hours.
More than 130 people at the firm's operation in Wardley, Gateshead, are taking industrial action over plans to introduce shifts which would mean working until 22:30.
Staff argue it would have an impact on childcare and travel arrangements.
The firm said it was offering a "substantial pay increase".
The proposed shift patterns would be 07:00-15:00 and 14:30-22:30.
'Betrayed'
Strike action will continue on Friday as well as Monday and Tuesday. As the company will close on Christmas Eve, it means the workers taking action will not return until Monday 29 December.
Further strikes are planned in January.
Brenda Readman-Bell, group finance and IT director, said: "We are very disappointed that we have not been able to reach agreement with the union representing our employees in Follingsby Park over the introduction of shift patterns in April 2015.
"We have been in consultation with the union since May 2014 and we feel we have done everything possible to work with the union and our employees to alleviate their concerns.
"The introduction of new shift patterns includes a substantial pay increase and standard working hours on a Monday-to-Friday basis."
United said the changes were designed to put staff "on similar terms to temporary workers" and showed "a total disregard of the impact the changes will have on workers with caring responsibilities".
Regional officer Fazia Hussain-Brown said: "Staff have worked hard to make the Barbour brand a global success and feel betrayed by the attacks on terms and conditions which are designed to squeeze out yet more profit."
The firm employs a total of 600 workers in the North East. It said no other areas of the business were affected by the strike action.