Jarrow walk-in centre closure plan referred to government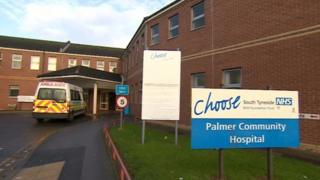 A plan to close a walk-in health centre in South Tyneside is to be referred to the government.
Health chiefs last month announced the facility at Jarrow's Palmer Community Hospital will be replaced by an "urgent care hub" at South Tyneside District Hospital in South Shields.
But, councillors unanimously agreed the decision should be reviewed.
They said the centre "performs a vital service" for people living in the area and called for it to be retained.
Councillor Rob Dix, chairman of the council's overview and scrutiny co-ordinating call-in committee, said the development of the urgent care hub is a "necessary and welcome development".
But, he added "members unanimously agreed this should not be at the expense of the Jarrow Walk-in Centre until the problems around the access to GP services in Jarrow, Hebburn and South Tyneside as a whole are addressed".
South Tyneside Clinical Commissioning Group said the change would provide the "best care" for patients and act as an alternative to queuing at A&E for minor ailments.
Services are due to be transferred next year.
Councillors will refer the matter to the Secretary of State for Health next week, with a decision expected within three months.