Durham's The Gates centre revamp may create 120 jobs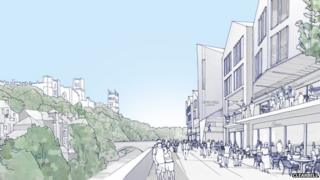 The redevelopment of a 40-year-old Durham City shopping centre could create 120 jobs, its new owner says.
The Gates went into administration last year and was bought by London-based developer Clearbell Capital LLP for almost £12m.
The firm is to build a cinema and restaurants, as well as a promenade overlooking the River Wear.
It said it hoped to create 120 jobs and wanted the public's views before making a planning application.
The plans will be on show at the centre on 28 and 29 November.
Nick Berry, partner at Clearbell, said: "Durham has long been starved of a cinema and we think residents from the city and surrounding area deserve a better place to eat, shop and be entertained."