NHS trust in North East had most attacks on staff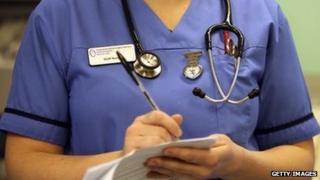 There were more than 3,300 assaults by patients on NHS staff in a north-east England hospital trust last year, the latest figures reveal.
The annual NHS Protect data shows the Northumberland, Tyne and Wear (NTW) NHS Trust had the highest number of attacks in England.
At 3,335, it is an increase on the 3,273 assaults for 2011/12.
The trust said the number was down to its size and the complex nature of the mental illnesses it dealt with.
The health body with the second-highest number was Southern Health NHS Trust, at 2,731.
NTW trust's chief executive John Lawlor said: "We're one of the biggest and most complex mental health and disability trusts in the country."
He said some of the patients the trust dealt with were "the most distressed with their mental illness" and could become violent as a result.
But he said this was not an excuse for attacks on staff and the trust had built new facilities, in which patients had space to calm down and staff were being trained to deal with violent situations.