WW1 medals 'found in BBC desk' reunited with soldier's family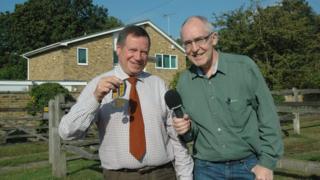 Medals from World War One have been reunited with a soldier's family after a mystery of more than 20 years.
The British War Medal and Victory Medal - inscribed with Pte WS Medhurst - were found in an office drawer by BBC Newcastle journalist Jon Harle.
After working with The National Archives, he found they had been awarded to Walter Stanley Medhurst, of Chobham, in Surrey.
He then presented them to Walter's great nephew, John Medhurst.
Mr Harle, a radio presenter with BBC Newcastle, said: "More than 20 years ago I moved to this office and this desk, and in the drawer I found a white envelope with two World War One medals.
"I have no idea how they got there, nor did the person who sat there before me or the person before them.
"I'd tried in the past to find the family of the man who won them but failed. With the centenary of the outbreak of the war, I thought I'd try again."
'Amazing'
Using records held at The National Archives at Kew, in London, he found key details about Pte Medhurst, who had served with the Motor machine Gun Corps Heavy Section which eventually became the Tank Corps.
Born in 1880, he had been working as an assistant in his father's shop before he enlisted in 1916.
He died in April 1977, aged 97.
Mr Harle was then put in touch with Pte Medhurst's great nephew, John, through the Chobham Museum.
Mr Medhurst described being handed the medals as "amazing" and said: "Nobody in my family can think how they would've ever have ended up in Newcastle.
"We may present them to a local museum."
You can hear more on this story on BBC Newcastle from 16:00 GMT on Tuesday 11 November.