Tynemouth Pier sea rescue after woman washed away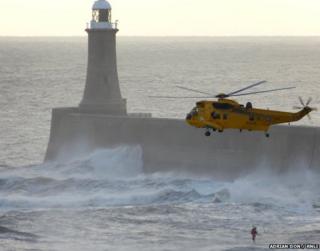 A woman was winched from the sea in a dramatic helicopter rescue after being washed out to sea by heavy waves.
She was heard shouting for help at the base of Tynemouth Pier, North Tyneside.
An RNLI lifeboat crew member climbed down one of the ladders on the pier and grabbed hold of her, but she was dragged from his grip by a large wave.
An RAF helicopter was then called in, with a winchman becoming submerged several times before managing to pluck her from the rough sea, said the RNLI.
'Risked his life'
The woman was taken to hospital after the rescue, soon after 08:30 GMT. Her condition is not yet known.
Adrian Don, from Tynemouth RNLI lifeboat station, described the rescue effort as "superb".
"The woman was found to be in a distressed state but was shouting to the lifeboat crew members for help," he said.
"Volunteer crewman Alun Ross climbed down a ladder from the pier and bravely entered the very rough sea and managed to get hold of her and start to get her to safety, but the power of the breaking waves dragged her away from him."
He added: "The RAF helicopter winchman also risked his life, becoming submerged several times before managing to recover the casualty from the sea."