Discovery Museum in Newcastle given tank for new exhibit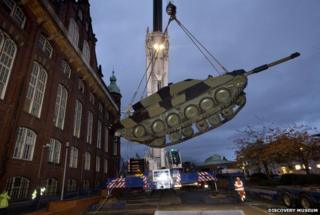 A prototype Challenger Two tank has been donated to Newcastle's Discovery Museum.
It has been placed atop a plinth outside the attraction as the centre point of a new art installation.
The tank is one of nine prototypes built by Vickers Defence Systems - now BAE Systems - in the early 1990s at sites in Newcastle and Leeds.
Museum chiefs thanked the company for the new arrival which will form part of their Armstrong collection.
Ged Bell, chairman of Tyne and Wear Archives and Museums Joint Committee said: "The significance of [the tank's] heritage to the city of Newcastle and the wider region is renowned and it provides the missing piece to the Armstrong story we tell in the museum."
The tank previously stood outside the Armstrong Works on Scotswood Road where it was built.
It will be the latest exhibit linked to the history of 19th Century Newcastle engineer William George Armstrong whose company went on to make weapons, ships and cars.