Kings Priory School development plan approved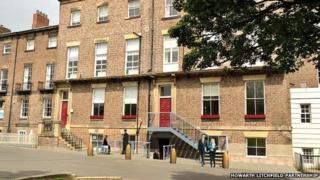 A £1.5m redevelopment plan for a Tyneside school has been given the go-ahead.
The scheme for Kings Priory in Tynemouth will see the creation of a sixth form building with cafe, a library, new teaching rooms and lifts to improve disabled access.
North Tyneside Council granted planning permission unanimously.
Plans for an external lift shaft had been opposed by some local residents but were removed from the application.
Created by the merger of fee-paying Kings School with the state-funded Priory Primary School last year, the academy has 1,350 pupils aged three to 18-years-old.
The redevelopment will take place on its Huntingdon Place site, which is the base for Year 5 children through to sixth form.
It is located within the Tynemouth Village Conservation Area and next to the Grade II* listed Tynemouth station.