Metro blaze on Tyneside sees train evacuated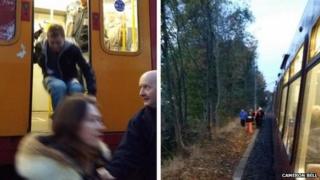 Commuters had to be evacuated from a Metro train on Tyneside after a fire broke out on board a carriage.
Fire crews were called at 07:35 BST to the train, which was travelling between Howdon and Hadrian Road stations.
The service was suspended between North Shields and St James' stations. It resumed about 09:45 BST.
On Twitter, passenger @Kitty_Woo told the BBC the emergency button was pressed after the back carriage began to fill with smoke.
The Office for Rail Regulation will carry out an investigation.