Should the North East get more power?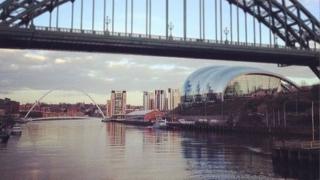 The North East of England should have the power to run itself but is not yet ready for the responsibility, a report has found.
The City Growth Commission said the government should devolve key decision-making powers to 15 metropolitan areas, one of which would cover Newcastle and Sunderland.
But its report also said the area did not have the structure in place to deal with extra powers.
Critics argued the region was prepared.
The City Growth Commission was set up a year ago to looks at ways in which economic growth could be boosted across the UK.
Its proposals would see a "metro area" created that would cover the local authorities of Newcastle, Sunderland, Gateshead, North Tyneside and South Tyneside.
The report calls for metro areas to be given the responsibility for collecting and spending their own Council Tax and business rates as well as being given control over planning major infrastructure projects, such as works on the main transport routes.
Currently Council Tax precepts are set locally but the banding of houses is done at a national level while business rates are pooled nationally before being handed back to local authorities.
---
Analysis
The ideas of metro areas and devolving decision making powers to the region have all been floated before.
What is more significant is the context in which these proposals are now being made.
After the Scottish Independence referendum all the main UK political parties are now debating in earnest the principle of devolving power to the English regions.
Reports such as this one genuinely now have the ability to influence that debate.
David Rhodes, Political Reporter BBC North East and Cumbria
---
Ben Lucas, who worked on the report, said: "We would expect to see a significant economic uplift for the North East if places like Newcastle and Sunderland were in a position to control their own economic destiny."
However, the report states "only London, Manchester and West Yorkshire may be ready to manage these risks and therefore to apply for devolved status" because they have established combined authorities which could administer the extra powers.
The commission said the North East "may soon be ready" after the formation of a North East combined authority, although it was not prepared for the extra responsibility yet.
Simon Henig, leader of the combined authority which brings together seven local councils, said: "We are ready, and indeed there needs to be a dispersal of power out of London to large parts of England and not just to Manchester."
Mr Henig also raised concerns about how the proposed metro area covered only Newcastle and Sunderland and ignored Teesside and large parts of both County Durham and Northumberland.
Mr Lucas said: "We have not ignored Teesside, in fact we would want to see the Tees Valley working closely with Tyne and Wear metro area and in the report we advocate in a number of ways how people and business on Teesside would benefit from these proposals."