Nirvana: 25 years since first UK gig in Newcastle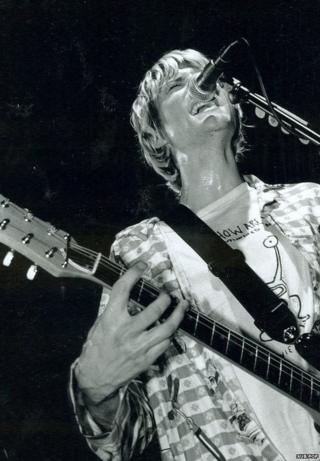 They became one of the biggest bands of the 1990s and defined the "grunge" sound coming out of Seattle, but Nirvana's first UK gig was at a half-empty venue in Newcastle. Twenty-five years on, two fans recall a chaotic but thrilling show.
"They looked like what they were - a scruffy, penniless American punk-influenced band," says Carl Taylor, a then-23-year-old Riverside regular.
"Nirvana made a really strong impression, but they were very much in their infancy and at the start of their journey. We didn't get a sense they would be a group the whole world would hear about."
While the buzz among the UK music press was steadily building, Nirvana were very far away from the multimillion-selling machine they would become in the wake of 1991's Nevermind. Signed to small independent Seattle-based record label Sub Pop, debut album Bleach had hit American shelves in June of 1989 with a UK release following two months later.
In a time before Smells Like Teen Spirit would command round-the-clock airplay on MTV and turn Nirvana into the world's hottest band, Bleach showcased a much blunter approach. Still to refine the quiet-loud-quiet-loud dynamic that would become such a key part of their songwriting, songs such as Blew, Floyd the Barber and Paper Cuts showcased a heavy, rougher-edged sound.
The three-piece arrived on British shores for the start of the 37-show Heavier Than Heaven tour which would be crammed into 42 days. Having recently parted ways with guitarist Jason Everman; Kurt Cobain, Krist Novoselic and Chad Channing would travel across the UK and Europe with fellow Seattle rockers Tad, rotating the headlining slot from show to show.
A long time stopping-off point for up-and-coming acts, the Riverside was one of Newcastle's most-cherished venues.
For Tad-fan Carl, Nirvana were not even the main attraction - but they would make a lasting impression. After picking up Tad's debut album, God's Balls, earlier that year, he bought a gig ticket from Volume Records, a small independent record shop in the city centre.
"The gig was a Monday night and I remember it being pretty cold. There would have been 100-150 people there. The Riverside held 400 or so people at that time, so it was about one-third full.
"I can remember seeing Kurt and his straggly blonde hair around the bar before Nirvana's set. He was shaking hands with people and talking to them after coming out of the backstage area.
"He looked like everyone else there - scruffily dressed with ripped jeans. There was a certain uniform among the Riverside crowd."
Taking to the stage after a short opening blast by Scottish support band The Cateran, Nirvana's ferocious power quickly won him over. "They had a lot of pent-up anger to let out," says Carl. "They were exorcising their demons.
"Some of the punk music coming out of America's east coast was political, but there was no sense of that with the Sub Pop bands and Nirvana were in that tradition. They were rooted a little bit more in Americana. It was pretty chaotic. The music was loud and fast and people were responding."
Among the set list, he recalls, was Negative Creep and Polly - a song which would later see the light of day on Nevermind.
"They came on and played about 13 songs. They clearly had quite strong character and attitude. I thought they sounded a little bit like Husker Du, but their songs were not quite as structured."
Also there that night with friends was 23-year-old Jim Mawdsley. A one-time Riverside doorman, he was by then a gig promoter and publisher of local music and style magazine Boiling Point. He too remembers a small but enthusiastic audience.
"It wasn't 150 kids jumping around in front of the stage, but people were into it. It was a real music fans' gig.
"Sub Pop was a very cool American indie label. It had Mudhoney, who had been over and were playing to about 1,000 people, which was a lot in those days because at the time that sort of stuff was very niche."
Nirvana - and especially Cobain - impressed.
"I remember thinking it was something special. They were just amazing," says Jim, who today is chief executive of North East-based music development agency Generator and responsible for Tyneside's Evolution Festival.
"It had been a while since I'd seen a gig where someone put so much energy into it."
The band earned an excited thumbs-up from Boiling Point. The magazine's review read: "The first few songs made it clear they needed to warm up and also suggested they were missing their recently departed guitarist.
"By about the sixth song of a pretty long set, though, they were ripping away with their awesomely heavy guitar of theirs - good job as well as bass monster Krist wrecked his instrument in song three, smashing the head clean off and ripping his speaker casing.
"If things hadn't improved I think he may have bitten someone's leg off."
Novoselic's rage, seemingly, was sparked by being hit on the head with a beer bottle.
For Carl, co-author of Riverside: Newcastle's Legendary Alternative Music Venue and producer of an upcoming documentary about the club, the Nirvana gig remains among his most memorable.
"It was always a fantastic place to watch live music. With its low ceiling and sweaty walls, it was quite an intimate venue. The barrier between the artists and the audience was broken down. You always felt you were a real part of any particular show."
Few of those watching that night could have imagined the maelstrom that would engulf the band within 18 months.
The tour would take them to far-from-glamorous stopping-off points including Manchester Polytechnic, Leeds' Duchess of York pub and Norwich Arts Centre.
Audience numbers remained small but the band's signature songs - Come As You Are, Lithium and the aforementioned Teen Spirit - would see Nirvana propelled into the mainstream as their follow-up album, 1991's Nevermind, topped the American Billboard chart.
By the time the band returned to Newcastle in December of that year for a gig at the larger Mayfair, they had been thrust firmly into the spotlight. Once again, Carl was there to see them.
"Melody Maker and the NME were all over them, and I had difficulty getting a ticket. The Mayfair was packed. They were a different band. There was a clear sense with that show they had moved on and shed their support role.
"Dave Grohl was playing drums for them by then and they were probably the biggest band in the world at that point."
Like Carl, Jim Mawdsley was shocked by the band's sudden ascent.
"It was a surprise for me when they crossed over into the mainstream in the way they did because they'd been on a really cool little label. The speed of the journey was so fast - they were headlining Reading [Festival] by '92."
Often railing against the ensuing fame, Cobain would be dogged by drug addiction, depression and rumours surrounding his marriage to fellow musician Courtney Love.
Third album In Utero followed in September 1993, but a star that had burned so brightly would soon be no more. On 8 April, 1994, he was found dead at his Seattle home from a gunshot wound to the head.
His suicide brought to an end a five-year rollercoaster ride which had seen the band go from rags to riches and bring the underground scene kicking and screaming into the mainstream consciousness.
The band's music, though, lives on with every new generation - helped a little by those who were in Newcastle that chilly October evening.
"My daughter was born in 1995 and has grown up to be a Nirvana fan," says Carl. "She asks me constantly about that Riverside gig, and I always tell her how amazing it was."