Detained Donald Duckling cargo ship sets sail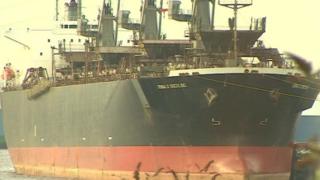 A cargo ship that was detained on the River Tyne for 11 months has finally set sail, the Port of Tyne has said.
The Donald Duckling was held in North Shields last November by the Maritime and Coastguard Agency (MCA) after failing a safety inspection.
In September, a Chinese shipping company, Hongda, bought it for about £1.9m ($3m) in a court-administered sale, BBC News understands.
It will now travel to Amsterdam for further repairs and inspection.
It has been renamed the Tai Fu Star and now sails under a Liberian flag, after originally flying a Panamanian flag.
The previous owner, Taiwan-based TMT, was unable to pay the repair costs, berthing fees, or the crew's wages and applied for bankruptcy protection in the US.
Its 22 crew members, mainly from the Philippines, were stuck on Tyneside over Christmas with little food or money, but later returned home.
The scrap metal ship was towed across the Tyne to South Shields in January, where it has been berthed ever since.
It is believed it has racked up debts of hundreds of thousands of pounds, which will be settled using the proceeds of the sale.