Sunderland story to be told in football opera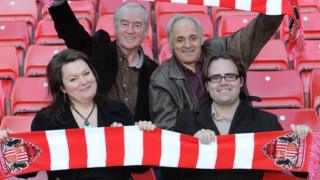 Plans for an opera telling the story of Sunderland Football Club - including the team's 1973 FA Cup win - have been unveiled.
An Opera for Sunderland has been commissioned by the Music in the Minster charity, bringing opera experts to the city to share their skills.
The work will be written by award-winning children's author David Almond and Spanish composer Marcos Fernandez.
Mr Almond said the passionate language of football was ideal for opera.
'Saviours and messiahs'
"I love football, I love opera and I love the North East," he said.
"Football is imbued with operatic language and emotion - saviours and messiahs, destiny and miracles, glory and disappointment, joy and despair.
"It has a wonderful soundscape - the singing, the groaning, the cheering of crowds.
"I aim to write a story that embodies the passion of football and draws on the club's great history."
The project is being funded by the Arts Council England.
Project artistic director Alison Barton added: "I remember the atmosphere in Sunderland when the Black Cats won the FA Cup in 1973. It was like an electric current running right through every home, school, workplace and street.
"The next time I felt that way was on stage as a teenager, appearing in my first opera. Parallels between football and opera are legion."
An Opera for Sunderland will premiere at Sunderland Minster in November 2015.