Lynne Spalding death: Brother stages Foreign Office protest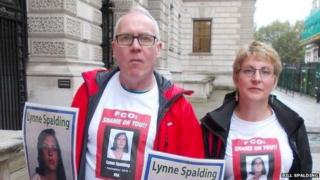 The brother of a woman found dead in a US hospital 17 days after going missing has held a protest outside the Foreign Office in London over the government department's "wilful unhelpfulness".
Bill Spalding, who lives near Sunderland, claims the British authorities did not help him after his twin Lynne, 57, died in San Francisco.
The Government has previously admitted it should have done more.
Mr Spalding was joined by dozens of other protesters.
'They were obstructive'
Ms Spalding was a patient at San Francisco General Hospital when she went missing.
Her body was found 17 days later in a stairwell at the hospital with authorities admitting the search for her had been "flawed".
Mr Spalding, from Easington Lane, said the protest was aimed at raising awareness about his and others' unhappiness with the Foreign Office.
He said he was treated "like a pariah" by UK consular staff when he visited San Francisco days after his sister's body was discovered.
Mr Spalding said: "I went to their office but no-one would help me.
"One of them later told me they didn't realise I was telling the truth and thought I was a reporter - all they had to do was look at my passport."
He said he also asked consular staff if they would help arrange a visit to the hospital so he could "spend a quiet moment" where his sister died, but they did not.
He said: "I want people to realise it's not like you think it would be, it's not just that they didn't help, I would say they were obstructive and showed a wilful unhelpfulness."
A spokesman for the Foreign Office said the department could not comment on individual cases.
He added: "As part of our focus on assisting the most vulnerable people overseas, we are considering new ways in which we may be able to do more, including more support for next of kin when they visit a country."
The spokesman said the office offers help to families of about 6,000 Britons who die overseas each year.