Jesmond street to become more 'people friendly'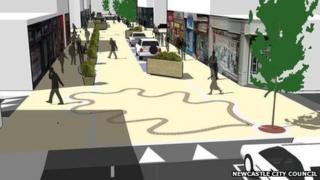 Plans to make a Newcastle street more "people friendly" have been announced by the council.
Acorn Road in Jesmond will become one-way to traffic, with a 20mph speed limit.
A contra-flow system for cyclists will be introduced and the road surface raised to the level of the pavement to make it easier for pushchairs.
The £350,000 cost will be met by the Department for Transport's Cycle City Ambition Fund.
Councillor Ged Bell, cabinet member for investment and development at Newcastle City Council, said: "Acorn Road is a very popular shopping destination and it's important that the council does everything it can to maintain its vibrancy."