Northumberland house hit by car, man arrested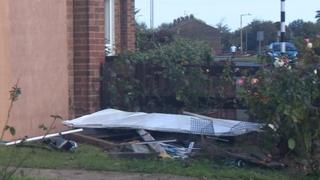 A man has been arrested after a car crashed into a house in Northumberland.
The Ford Focus hit the building in Exeter Close, North Seaton at about 22:00 BST on Saturday, police said.
A woman in her 50s who was in the house at the time was not injured, but taken to Wansbeck District General Hospital after falling ill due to shock.
The 42-year-old driver of the car was arrested in connection with the crash and is in police custody.
Northumberland Fire and Rescue was also called to a separate incident in which a car hit a house on Coquet Drive, Ellington at about 02:40 on Sunday.