North Tyneside Council reveals to staff 350 jobs threatened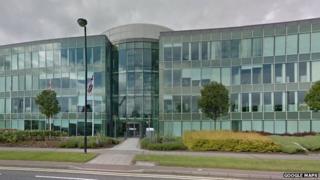 Up to 350 jobs are under threat over the next two years as a council attempts to save £50m, bosses say.
North Tyneside Council has confirmed it spoke to trade unions after submitting an HR1 notification form, detailing potential redundancies.
Chief executive Patrick Melia outlined restructuring plans to staff in the Creating a Brighter Future programme.
Mr Melia said: "Due to the scale of the challenge we will have to be a smaller council with a smaller workforce."
---
Analysis
Fergus Hewison, BBC Newcastle political reporter
News that around 350 jobs could be lost at North Tyneside Council as it tries to save up to £50m pounds has re-ignited the debate around where blame should lie when town halls face a financial squeeze.
The Labour-run council says it is having to make significant savings, but will try to minimise compulsory redundancies when the posts go by mid 2016.
But there's no doubt where Labour supporters will point the finger of blame for what they see as unfair cuts; right at the coalition government and its austerity measures.
The government though says town halls are still feeling the squeeze because of the state the economy was left in by Labour, forcing councils to continue to find ways to become more cost-efficient.
---
In his message to staff, Mr Melia said: "The council faces some tough challenges in relation to significantly less resources, increasing demand and rising expectations.
"It is expected that the council's budget will reduce by £46m to £50m over the next three years."
Mr Melia said the authority will consider launching a voluntary redundancy scheme and hopes to minimise the number of compulsory redundancies necessary.