Hadrian's Wall £11m visitor centre given go-ahead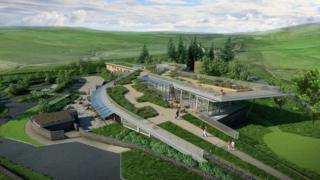 A £11.2m visitor centre and youth hostel on Hadrian's Wall has been given the go-ahead.
The Sill National Landscape Discovery Centre in Northumberland is expected to create about 117 jobs and attract 100,000 visitors each year.
Replacing facilities from the 1960s at Once Brewed, near Hexham, the scheme is predicted to bring in £3m each year.
Northumberland National Park Authority chairman John Riddle said it will bring benefits you "cannot put a price on".
Approved by the authority's development committee, the new centre also includes a cafe as well as office and recreation space.
Mr Riddles said: "The long term gains of the project include economic growth and job creation which will offer a step-change benefit for the whole of the North East."
The building has been designed to fit in with the surrounding landscape and will use sustainable energy such as solar thermal water heating and woodchip heating.
The team is now applying for £3m match funding and is submitting a bid to the Heritage Lottery Fund for the remaining £6.9m to build the centre.
An outcome is expected early 2015.