American bulldog attack: Man has arm amputated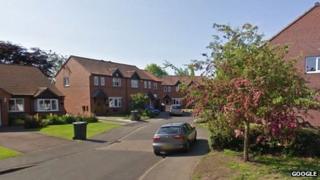 A dog breeder who was mauled in the street by two of his American bulldogs has had his arm amputated.
Stephen Potts was attacked by the dogs in Priors Grange, High Pittington, County Durham, on Sunday evening.
Bystanders tried to intervene by beating the dogs with golf clubs and spades while some even tried ramming them with their cars, but to no avail.
Mr Potts' father Geoffrey said he was in a "stable condition" in hospital but his right arm had been removed.
Mr Potts Snr said he did not know what had happened for the "devastating" attack to occur, but thought it was down to fireworks "startling" the dogs.
'Wanted to escape'
He said: "I would just like to thank everybody from High Pittington who helped him.
"Stephen is recovering, he's in a stable condition and they [the hospital] are just taking it day to day.
"I don't think there are many dogs that like fireworks. I think they've got a fright and wanted to escape."
Northumbria Police visited the kennels of the dog breeder in Low Pittington to check the condition of his animals following the attack.
A spokesman said they were being properly cared for and none was classed as a dangerous dog.
Witnesses said they saw Mr Potts being thrown around "like a rag doll" and the dogs "almost ripped off" his arm.
One of the dogs was caught at the scene and shot by police officers. The second dog was taken to kennels.