Future Fund child cancer appeal gets £1m from Barbour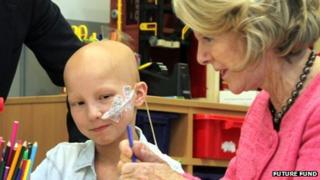 A fund to establish a research centre for childhood cancer has received a £1m boost.
The Future Fund campaign - launched just three months ago - is raising money to create a research facility at Newcastle University.
The latest donation, from wax jacket heir Dame Margaret Barbour, will help fund researchers aiming to develop treatments with fewer side effects.
The charity, supported by Sting and Mark Knopfler, has now raised £1.7m.
North of England Children's Cancer Research, which works with the university, has raised more than £20m to fund childhood cancer research since it was founded in 1978.
'Precious life'
Dame Margaret, who is also the patron of the Future Fund, said: "Treatment of childhood cancer has been one of the success stories of modern medicine, but there is still further progress to be made.
"The Future Fund campaign will enable this progress to move on to the next level. I am extremely proud to be associated with this vital work."
She visited the Great North Children's Cancer Hospital at the Royal Victoria Infirmary and met cancer patient Mary Dafter, 10, of Benwell, Newcastle, who has a rare form of cancer called Ewing's sarcoma in her shoulder.
Her mother Emma said: "Mary is a very special little girl and in some ways we actually feel quite lucky to have faced this together as a family because it has made us realise more than ever how precious life is and how we all need to take the time to value the truly important things in life."