Lindisfarne treasure hoard: Plea to raise final £3,000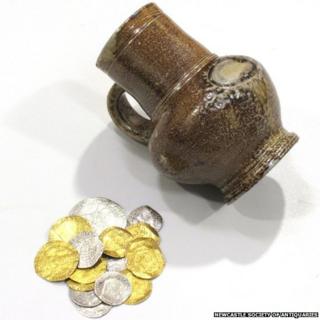 Campaigners aiming to buy a hoard of treasure unearthed in Northumberland are appealing for the public to help raise a final £3,000.
Builder Richard Mason found a pottery jug on the island of Lindisfarne in 2003, but it was not until 2011 that he found the jug contained 17 rare coins.
After being declared as treasure, Newcastle's Society of Antiquaries campaigned to keep it in the region.
The society said a final £3,000 is now needed to reach the £30,900 target.
The campaign currently has £26,000 thanks to donations from the V& A Purchase Grant fund and the Headley Museums Archaeological Acquisitions Scheme.
However, in order to secure it at the Great North Museum in Newcastle, a final £3,000 must come from donations by members of the public.
Catherine of Aragon
Great North Museum manager, Dr Sarah Glynn, said: "We are so close now to being able to secure this fantastic hoard of coins and we are extremely grateful for all the support we have received so far.
"It will be wonderful if the hoard can become part of the museum collection and put on display for the people of this region to enjoy."
The 10 gold and seven silver coins span the reign of six English sovereigns and several European states with one - a gold scudo of Pope Clement VII, who refused to annul the marriage of Henry VIII to Catherine of Aragon in the 1520s - thought to be worth about £30,000 alone.
The oldest coin is a silver groat of King Henry VI, minted in the late-1420s or early-1430s, and the latest is a silver sixpence of Queen Elizabeth I, minted in London in 1562.
In 1963, Alan Short, from Seahouses, found a hoard of 50 Elizabethan silver coins in almost the same spot on Lindisfarne - also known as Holy Island - which is also housed at the Great North Museum.