Newcastle United fans top banning order table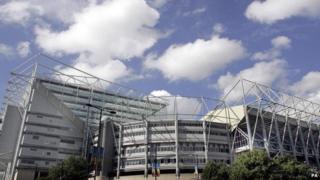 Ninety-five Newcastle United fans were given banning orders over the past year - more than any other club in England and Wales, the Home Office said.
Of the clubs in the Premier League, Sunderland had the second highest number of fans banned with 18, followed by West Ham with 16.
In total, 256 banning orders were imposed on fans of top division clubs.
The supporters had their bans imposed between 21 September 2013 and 3 September 2014.
In total, 127 Newcastle fans remain banned from grounds with Chelsea the next highest Premier League club, having 91. Theses figures are made up of existing and last season's bans.
Championship side Middlesbrough has a total of 32 bans, two of which were imposed last season.
League Two club Hartlepool United has a total of 22 bans, with 10 issued last season, and Carlisle United has six total bans, two of which were imposed last season.
No-one from Newcastle United was available for comment.
Outside the Premier League, League One side Chesterfield had the highest number of fans being banned over the past 12 months with 22.
The Home Office said the number of banning orders imposed by courts decreased by 7% to 2,273 on 3 September 2014 from 2,451 on 20 September 2013, with 678 new banning orders imposed during the period across all divisions.
More than 38 million fans attended matches during the 2013-14 season.