Alcohol 'contributed to skipper James Reid's death'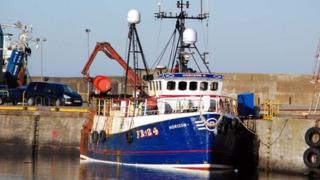 An investigation into the death of a fisherman who fell from a boat in North Shields after a night out has concluded his alcohol intake was partly to blame.
James Reid, 37, from Scotland, fell while trying to board the Horizon II FR24, which he skippered, in the early hours of 9 November 2013.
He became trapped between a boat and a quay wall and died later in hospital.
An accident investigation report said the effects of alcohol "almost certainly" contributed to the fall.
Mr Reid, from Fraserburgh, fell into the water while climbing over one fishing boat to reach his own shortly before 01:00 GMT.
'Unnecessarily hazardous'
A report from the Marine Accident Investigation Branch (MAIB) said Mr Reid had more than twice the legal amount of alcohol in his blood.
The report also said he could not be found quickly because of a lack of lighting, manpower and rescue equipment at Royal Quays Marina, where his boat was berthed.
Mr Reid suffered severe head injuries and a cardiac arrest and was not rescued from the water for almost 30 minutes.
The report concluded: "It is likely that the environmental conditions, an old ankle injury and the effects of alcohol had all contributed to the skipper's fall.
"Although not directly contributory to the accident, the investigation identified that the means of access to the fishing vessel berths within Royal Quays Marina were unnecessarily hazardous as it required fishermen to climb over fixed safety rails.
"Royal Quays Marina has now implemented an action plan to improve the levels of emergency equipment provided and introduced procedures to improve communications with fishermen and to deal with emergency situations such as people falling into the water."