McDonald's near Kenton School plan rejected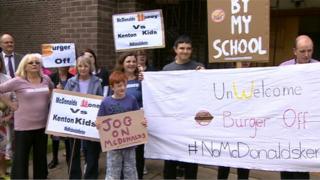 Plans to build a McDonald's near a Newcastle school have been rejected by councillors.
Hundreds of people objected to the plan for dozens of reasons, including fears it would promote unhealthy eating to children from nearby Kenton School.
McDonald's said the restaurant would create 75 jobs and contribute £1.9m to the area's economy.
The plan was recommended for approval by planning officers, but Newcastle City Council's committee rejected it.
'We are disappointed'
Resident and campaigner Siobhan O'Neil said previously that local pupils surveyed said they would "go on their way into school and on their way home from school, and some of them will try and go at lunchtime".
As well as the 221 formal objections submitted to the council, 592 people signed online petitions against the plan and three schools also wrote in opposition including Kenton, which has about 2,000 pupils.
Six people signed a petition in favour of the restaurant, which was to be built on the site of a former pub.
Speaking after the decision, a McDonald's spokeswoman said the company would reflect on the decision before deciding whether to appeal.
The spokeswoman said: "We are disappointed with today's decision as an approval would have secured the creation of 75 new jobs and significant investment into the local area."