Passengers hurt in Gateshead cemetery crash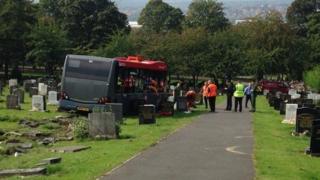 A bus has crashed into a cemetery, injuring passengers and destroying more than 30 headstones.
The single decker hit a parked car before going through railings into Saltwell Cemetery in Gateshead, Northumbria Police said.
Officers said about 15 passengers were checked over at the scene by paramedics. Two people were taken to hospital.
Bus company Go North East said the driver had been spoken to by police.
A spokesman said: "This is a serious incident and our thoughts are with the passengers and their families at this moment.
"We will carry out a full investigation to establish exactly how the accident occurred."
One onlooker estimated the bus had come to a stop with a front wheel resting on a gravestone.
'Smashed up'
Gateshead Council said 32 headstones were destroyed and several more damaged as the bus veered off the road and down a steep slope.
"The front of the bus is all smashed up," said the witness.
"There's loads of police here and council workers."
A spokeswoman for Northumbria Police said: "Officers are at the scene where they have spoken to the driver.
"We are investigating to see what has happened."
A spokeswoman for North East Ambulance said: "It had the potential to be quite serious and it must have looked quite dramatic but there were only two casualties both with minor injuries."