Rare seabird has 'most successful' breeding season in 20 years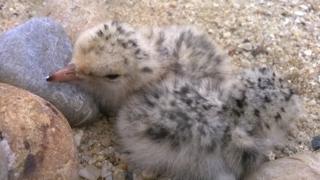 A rare seabird has had its most successful breeding year in 20 years in north-east England, experts say.
Little tern colonies across three sites in Beadnell Bay, Lindisfarne and Crimdon Dene have produced more than 180 chicks this year.
The success is said to be largely down to good weather and rangers and volunteers patrolling the beaches.
The RSPB said these "much-needed" patrols protected the shore birds from predators and human disturbance.
This year, 89 little tern chicks fledged along the Northumberland coast at the National Trust's Long Nanny site in Beadnell Bay and at Natural England's Lindisfarne National Nature Reserve.
In Crimdon Dene in County Durham, 94 chicks successfully fledged thanks to the Northumberland Little Tern Project.
'Extremely vulnerable'
Little tern project co-ordinator Mhairi Maclauchlan, said: "We have been excited to help enhance the great work already going on for little terns at places such as Long Nanny and Lindisfarne. It seems to be paying off.
"However, we are painfully aware of how easily a good year can be followed by a bad one as little terns are extremely vulnerable to disturbance and bad weather events.
"This is why we will be continuing to work hard to protect these birds over the next four years of the project and beyond."
The birds arrive in the region UK from Africa each spring to nest on beaches.
About 1,900 pairs of little terns nest in Britain.