Freeman Hospital opens play facility for young heart patients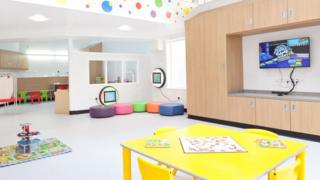 A £300,000 specialist play facility for young heart patients has been officially opened at a North East hospital.
The facility, at the Children's Heart Unit at Newcastle's Freeman Hospital, includes tech zones with video games and TVs as well as a sensory room.
It was paid for through the efforts of Ivan and Nadine Hollingsworth.
Their son, Seb, had a life-saving operation five years ago and he cut the ribbon at the opening ceremony earlier.
The Hollingsworths, of Whitley Bay, have organised numerous fundraisers in recent years including coast-to-coast cycle rides, swims and skiing events through the Seb4CHUF (Children's Heart Unit Fund) group.
'Special day'
Mr Hollingsworth said: "Thinking about this day finally arriving has served as my inspiration for some very dark days in my family's life over the last four or five years.
"I have this unit to thank that my son Seb is here at all.
"It's testament to the care, dedication and skills of everyone here that one of their own heart patients is fit and healthy enough to be bouncing around the play facilities today.
"It's humbling to think we've raised enough to completely fund this entire unit. This is a very special day, knowing that hundreds of other young boys and girls will have the benefits of this facility for many years to come."
Joanne Moore, play specialist at the unit, said: "A facility like this is so critical to the holistic care of our young patients on the ward. This isn't just a 'nice to have'.
"As well as allowing the kids just to be kids, a fully equipped play facility is crucial in both the pre and post-operative care of the child."
The unit's existing sensory room has been incorporated into the new facility.