Tyne and Wear Metro passengers flee power cable scare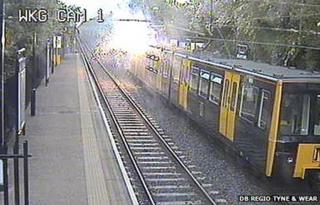 Tyne and Wear Metro passengers were forced to flee a train after an overhead power cable snapped and made contact with the carriage.
The incident, on 11 August, resulted in a shower of sparks and a small fire as the train stood at Walkergate station.
No-one was injured, but about 30 passengers on the train used emergency exits to get onto the platform.
The Rail Accident Investigation Branch (RAIB) said it had begun an inquiry into the incident.
An RAIB spokesman said: "At 18:56 a two-car Metro train, travelling from South Shields to St James, arrived at Walkergate station.
"While standing in the station an electrical fault occurred to a line breaker mounted on the underside of the train, which produced some smoke. It also caused the circuit breakers at the sub-stations supplying the train with electricity, via the overhead line, to trip.
'No significant damage'
"Shortly afterwards, the overhead line above the train parted and the flailing ends of the wire fell on the train roof and one then fell on to the platform, producing significant arcing and sparks for around 14 seconds.
"Fortunately, there was no-one on the platform at the time. However, there were about 30 passengers on the train who [exited] on to the platform.
"No-one was reported to be injured in the accident and there was no significant damage to the interior of the train."
Raymond Johnstone, director of rail and infrastructure for Metro operator Nexus, added: "The Tyne and Wear Metro has an excellent safety record over its 34 years of operation. Safety is our top priority.
"Nexus and our operations contractor are co-operating fully with the investigation into the incident at Walkergate and we await the findings and recommendations of the RAIB."