Sting shows to support Sage Gateshead anniversary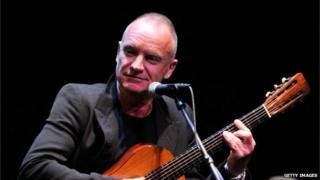 Sting has announced two concerts to help celebrate the 10th anniversary of the Sage Gateshead arts venue.
The former Police front man, who was born in nearby Wallsend, will play two shows on 24 and 25 April next year.
Proceeds from the shows, which will feature songs from his most recent album The Last Ship, will help fund educational projects at the Sage.
The venue, designed by Foster and Partners, opened in October 2004 and is home to the Royal Northern Sinfonia.
The singer said: "The Last Ship is a musical allegory set in Wallsend, the town where I was born and raised.
"The demise of industry, not only in shipyards like Tyneside and Gdansk, but also great manufacturing centres like Detroit, has been well documented and the effect of that demise on the identity and future of local communities particularly resonates with me.
"I'm very much looking forward to bringing these songs and stories home.
"The North East has a great creative atmosphere and legacy. The Sage sits proudly at its cultural heart and I'm always happy to support it."
Anthony Sargent, general director of Sage Gateshead, said: "His support for our 10th birthday appeal means that our work across the region, helping enrich so many lives through our musical education programmes, can continue.
"For the past 10 years, these programmes have benefitted everyone from marginalized, struggling young people through to people at the end of their lives.
"The generosity of Sting, and our other kind supporters, will help even more people as Sage Gateshead enters its second decade."