A1 Gateshead Western Bypass widening scheme getting under way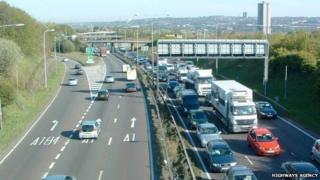 Work to widen a 6.4km (four miles) stretch of one of the North East's busiest roads is getting under way.
The scheme, costing up to £77m, on the A1 Western Bypass at Gateshead, will see the creation of a third lane in both directions.
It is aimed at reducing congestion between the Coal House roundabout and the Metrocentre.
A road will also be built to link Lobley Hill and Gateshead Quays, with work to be completed by spring 2016.
Overnight lane closures are planned and a 40mph speed limit will be in place during the works.
The first closures will be from 20:00 BST on Tuesday to 06:00 BST on Saturday between Swalwell and the Coal House roundabout in both directions.