Late soldier's belongings stolen in Northumberland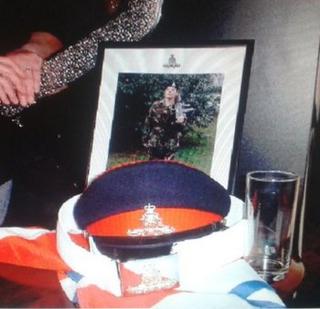 Thieves have stolen sentimental possessions of a soldier who died while serving in the British Army from her brother's house in Northumberland.
Andrea Martin, 25, died while serving as a gunner in the Royal Artillery in 2002, her family said.
Police said burglars stole an army hat, belt and Union Jack flag from her brother Daniel Martin's house in Scotland Gate, Choppington.
Mr Martin said the loss of the items left him "angry, empty and gutted".
The burglary took place some time between 17:00 BST on 18 August and 12:30 on 20 August, while Mr Martin was away from the property.
"They mean a hell of a lot. They're the only things I've got of hers. They mean everything," he said.
He said his sister had been a "bubbly" and "active" person.
Police have asked anyone with information relating to the burglary or the stolen items to contact them.