Production halted at Sunderland's Nissan factory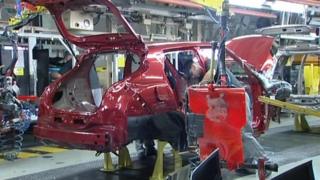 Production has been suspended at Sunderland's Nissan plant following maintenance work.
The company, which makes models including the Juke at the factory, said panel production has been moved to a different press line while repairs are carried out.
Vehicle assembly is expected to resume "in the coming days", it said.
The Unite union said it was "working closely" with management to rectify the problem as soon as possible.
A Nissan statement said: "We can confirm the production schedule has been temporarily suspended at the Sunderland plant following scheduled maintenance work in our press shop.
"Panel production is being transferred to an alternative press line for vehicle assembly to resume in the coming days.
"Following the repair we will return to full production on both lines, so customers can be reassured there will be minimal impact on their orders."
Other areas of production, such as those which supply other Nissan and Renault plants with electric vehicle batteries and cylinder heads, are continuing to operate, according to a spokesman.
More than 6,000 people are employed at the factory.
Staff in mainline shops are supporting the repairs, working in other departments and taking part in training activities.