St Aidan's Church, Bamburgh, to stay unlocked despite armour theft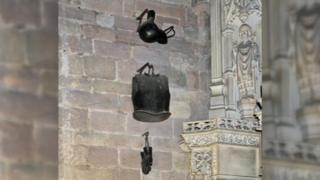 A church is to remain unlocked despite being raided and 400-year-old armour being stolen, its vicar has said.
A 17th Century helmet hanging from a wall was taken during the raid on St Aidan's Church, Bamburgh, Northumberland.
The Reverend Brian Hirst said £5,000 of damage was also caused to the church's altar and brickwork by the thief who "clambered" up the wall.
But he said despite the raid, the church would remain unlocked.
The stolen items were a "lobster pot" helmet worth £6,000 - similar to armour worn by anti-royalist Roundheads during the English Civil War, and a pair of gauntlets.
They had been in the church for more than 400 years.
'Very bold'
The thieves climbed 20ft (6m) up old carvings behind the altar to take the items, police said.
The theft was discovered on Friday, but it is not known when the raid took place.
"The church is open all day, every day but is rarely empty so somebody has been very bold to clamber up there - it's quite a height", Mr Hirst said.
"There is amazement that this would have been done in broad daylight with the risk of being discovered in the act."
He added: "Our insurers say an unlocked church is a safer church and we will remain open, but review security."