New leads in search for brothers missing from foster home in Sunderland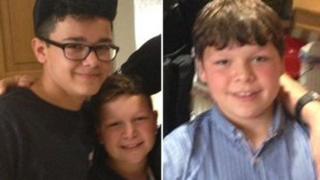 Police say they have had a good response to appeals to trace three Polish brothers who are missing from their foster home in Sunderland.
Remus, 15, Janko, 12, and 10-year-old David Matloch were last seen in Newcastle on Monday evening.
Northumbria Police said about 20 calls from the public had been received, leading officers to switch attention on the Birmingham and London areas.
Supt Alan Veitch said there was "increased concern" for their safety.
The brothers failed to return to their foster carers' home after heading out on a bike ride to a local park.
Instead, they took a Metro train to Newcastle and were last seen on CCTV walking out of Central Station. They were thought to only have £60 in cash on them at the time.
Supt Veitch said: "We have had more than 20 calls from people with information which we are still following up.
"We are increasingly concerned for their welfare.
"We do want to stress that the boys are not in any trouble, we just want to know they are safe and well. We need to know where they are so we can go and collect them and bring them back.
"While searches are continuing in Newcastle, officers are also making inquiries in Bedlington, Northumberland, where the boys go to school, and Blyth, where the boys previously lived.
"We are also now concentrating efforts in Birmingham and London, in the Edmonton area."
The boys have been in foster care for 18 months.
---
The boys' descriptions
Remus - 5 ft 7 (1.7m) , slim, dark hair in a big quiff at the front and shaved at the back. Last seen wearing joggers, baseball cap and t-shirt and a black cycling helmet
Janko - 4 ft 8 (1.4m), medium build, fairer hair in a quiff and short at the back. Last seen wearing smart mustard coloured chinos, Converse-type trainers, blue lightweight waterproof jacket with a white zip and a silver cycling helmet
David - 4 ft 8 (1.4m), shaggy dark brown hair, possibly wearing shorts and a top and a silver coloured cycling helmet
---