Pilot Wilson Taylor receives wings after 70 years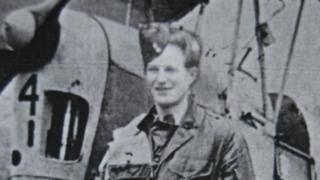 A former airman will be presented with his wings nearly 70 years after qualifying for them after campaigning to receive the honour.
Wilson Taylor, 89, from Newcastle, trained as a pilot in Canada during WW2 and qualified in August 1945 as the war ended.
Having not completed operational flying duties, his wings were provisional.
But he was determined to receive them and now the RAF has agreed to make an exception to its rules.
He will be joined by his family when he is presented with his wings at a ceremony next week.
'So full of pride'
He said: "I am so excited. I am just bubbling over. It has been 70 years of trying.
"I will be so full of pride and happiness I think I will probably burst.
"To have them on my chest will be the proudest thing to have happened to me."
Mr Taylor, from Jesmond, who turns 90 next month, said his life-long passion for flying was first sparked when he lived near Usworth Aerodrome, in Sunderland, and as a boy used to go to watch the planes.
In August 1940 he saw a Spitfire shoot down a German bomber over Barnard Castle, in County Durham, and it was then he decided what he wanted to do.
He was called up in 1943 and spent time in England before being shipped over to Canada to train. He qualified as a pilot in August 1945 as the war was ending and earned his wings on a provisional basis but never received them because he did not complete flying duties.
He came back to England where he did ground crew jobs for the RAF for two years before leaving in 1947 and going on to a varied career which included teaching deaf children for many years.
Passion for flying
But he was never prepared to accept that he never received his wings and set about his campaign to get them - which included writing to the Queen and the RAF.
"It was grossly unfair that I was qualified and there was no proof of it", he said.
In May 2014 he finally received the news he had been waiting for with a letter from Headquarters Air Command that they would break protocol and make an exception to the rules and award him his flying badge for successfully completing his flying training in 1945.
He said: "I just about burst into tears. I was so excited.
"Every day for the last 70 years I have said 'I wish I had my wings'."
Despite leaving the RAF in 1947, he never lost his love of flying. He flew a plane for the last time when he was 85 and has a flight simulator in his sitting room which he uses every day even though he now suffers from the eye disease macular degeneration.
He said: "When I found out I came on here and took off in Canada where I did my training and the 70 years just disappeared.
"Flying has always been my passion. It's difficult to describe. I just like to be near aircraft.
"It's the sound, the smell, the feeling of being in control. It's just heaven."