Penshaw Monument graffiti removed after community donations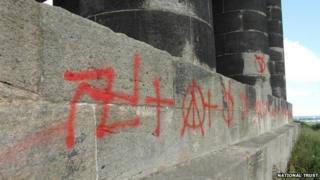 Unprompted donations from members of the public have enabled graffiti on a Grade II listed landmark to be removed.
Large areas of Penshaw Monument, in Wearside, were daubed in red paint on 26 July with symbols believed to be from the film V for Vendetta.
The National Trust, the charity which owns the site, said local businesses and residents had donated £1,500 despite no plea for cash being made.
The trust said the vandalism provoked a "huge and passionate" response.
The trust's area ranger, Gareth Wilson, said he was "incredibly grateful" people had shown "such concern" for the monument.
He said: "This is a place that means so much to so many people. As a charity, the National Trust wouldn't be able to protect it for the enjoyment of everyone without the generosity of donors, members and volunteers."
Those who made a donation included Ron Colledge, a farmer from Easington, as well as Barclays Bank.
The monument, which was built in 1844 in the form of a Greek Temple, stands 446ft (136m) above sea level. It is based on the design of the Theseion, the Temple of Hephaestus, in Athens.