Brothers missing from foster home in Sunderland 'could be abroad'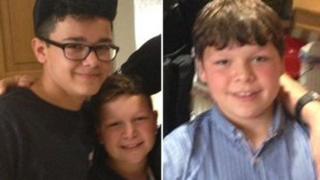 Three Polish brothers missing from their foster home in Sunderland could have gone abroad, police have said.
Remus, 15, Janko, 12, and 10-year-old David Matloch were captured on CCTV getting on a Metro to Newcastle on Monday evening.
Supt Alan Veitch said the boys' biological parents were believed to be out of the country and he could not rule out that the children were abroad.
He said the boys speak English and have relatives in Blyth and South Shields.
Supt Veitch said the brothers left home at The Oaks for a bike ride to nearby Mowbray Park at 17:20 BST on Monday and were due back at 20:00.
He said they boarded a Metro at 17:30 and were seen leaving Newcastle station and heading towards the Centre for Life.
At that stage they did not have their bikes with them and were not with any adults, police said.
The boys have been in foster care for 18 months, a press conference was told.
Northumbria Police said the boys had not been answering their mobile phones and have not gone missing before.
'Meet a friend'
Supt Veitch said: "We are increasingly concerned for the boys' welfare and we are appealing for anyone who may have seen the youngsters travel on the Metro from Sunderland Park Lane arriving at Newcastle Central Station at 18:04 last night.
"We urgently need to hear from anyone who saw the boys after that.
"We don't know if they travelled onward by rail, or if they came into Newcastle, or used another form of transport to go elsewhere.
"So far we believe they may have been travelling to the railway station for a purpose to meet with a friend or family member.
"We need to know where the boys are and that they are safe."
---
The boys' descriptions
Remus - 5 ft 7 (1.7m) , slim, dark hair in a big quiff at the front and shaved at the back. Last seen wearing joggers, baseball cap and t-shirt and a black cycling helmet
Janko - 4 ft 8 (1.4m), medium build, fairer hair in a quiff and short at the back. Last seen wearing smart mustard coloured chinos, Converse-type trainers, blue lightweight waterproof jacket with a white zip and a silver cycling helmet
David - 4 ft 8 (1.4m), shaggy dark brown hair, possibly wearing shorts and a top and a silver coloured cycling helmet
---