South Tyneside Council reveals up to 350 jobs must go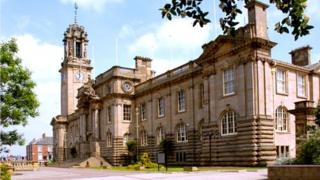 A council in north-east England which faces making savings of £22m, has said it may be forced to cut up to 350 jobs.
South Tyneside Council said the money is in addition to the £100m it has already saved over the last four years.
The authority pledged to work with its unions and said it would make every effort to avoid compulsory redundancies.
Unison branch secretary Mervyn Butler said: "This is yet more misery for our members."
Councillor Ed Malcolm, lead member for resources and innovation, said: "We will do everything we can do to reduce the 350 figure.
"We appreciate this is a tough time for our staff and we will work with them and the trade unions to lessen the impact wherever we can."
Mr Butler said more than 800 jobs had been lost since 2010
"We understand the cuts to grants from central government make it difficult for the council, but they have to understand at some point services will suffer," he said.