Stanley bus crash: Firm liable after driver blacked out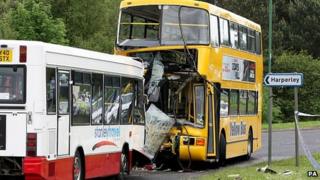 A bus firm is liable to pay damages for a crash involving 50 school children after its driver blacked out moments before the smash.
Operator Stanley Travel said its driver was unconscious at the time of the head-on smash between two buses, which left 28 children injured.
A spokesman said the firm admitted liability and wanted a "speedy settlement" to help injured passengers.
The single decker coach hit another bus in the crash in Stanley on 3 June.
A spokesman for Stanley Travel said: "We are able to confirm that our insurance company has agreed to accept liability.
"We are also able to confirm that the driver of our bus blacked out moments before the incident, and the medical evidence strongly suggest the driver was unconscious at the time of collision.
"We hope that a speedy settlement will assist the injured passengers in obtaining any additional help and support they require."
Victim injury claims are being prepared, law firm Irwin Mitchell said.
A Durham Police investigation into the accident is continuing.
A number of children were injured - one 12-year-old boy seriously - in the collision on Shield Rowe Lane.
A total of 50 children were on the single and double-decker buses involved. They were aged between 11 and 18 and from St Bede's and Tanfield schools.
The driver of the double-decker, 54-year-old Paul Stephenson, who was employed by the other bus firm, Go North East, suffered leg and head injuries.
A spokesman for Irwin Mitchell, which is representing some families, said: "This was a very serious incident in which a total of 13 ambulances were needed to help treat the schoolchildren."
He said it was "vital that we support the injured children with any treatment they need for their injuries and to help them overcome the trauma of the crash".