Penshaw Monument graffitied with V for Vendetta symbols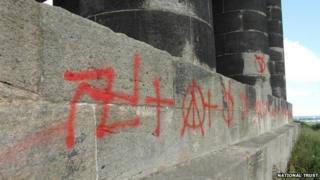 Symbols believed to be from the film V for Vendetta have been graffitied on a Wearside landmark.
Large areas of Penshaw Monument were daubed in red paint at some time on Saturday evening, owners the National Trust said.
The trust's area ranger, Gareth Wilson, said some visitors thought the graffiti related to the film V for Vendetta.
Mr Wilson said it was a "disgrace" someone had chosen to vandalise such an "iconic symbol" in the North East.
The trust said it was working with a specialist to remove the graffiti at a "considerable cost" to the charity.
Mr Wilson said: "It's disgraceful that an individual has chosen to do this.
"It might be something to do with that film [V for Vendetta], it might be a bit of a protest about the government, I'm not really sure because quite a lot of it is misspelt and it is hard to read, but it is certainly a real mess.
"It is going to cost us an awful lot of money to get it cleaned up... it's a listed building so we have to get a specialist company in to remove it.
"It's disappointing to say the least. The monument means a lot to a lot of local people and I'm sure the vandalism will make a lot of people angry."
The Grade II listed monument was built in the form of a Greek Temple and stands 446ft (136m) above sea level. It is based on the design of the Theseion, the Temple of Hephaestus, in Athens.
Sunderland councillor John Scott said: "It's an absolute disgrace that we have such an iconic monument damaged by some silly stupid idiots who have got nothing better to do.
"We're really upset in Sunderland... the people are outraged this has happened."
Anyone with any information is asked to contact Northumbria Police.