World War One: The unprotected Protector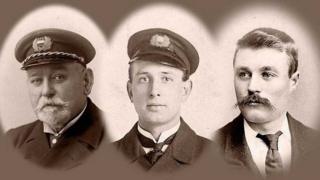 Halfway though World War One a mine meant for a British warship blew up an entirely different target. The explosion killed all 19 men on board, many from only two streets, some from the same family.
In the early hours of New Year's Eve 1916, a pilot boat - the Protector - was waiting at the mouth of the River Tyne.
The men on board were about to be blown clean out of the water.
"There was a noise as if it was a volcano and all they saw was a column of water and smoke and the pilot cutter was no more," says Bill Watson, whose uncle Ralph Phillips and great-grandfather Robert Phillips were on board.
The cutter took pilots out to ships coming in to port. These men, specialists in the hazards of the river, would board via rope ladders and steer the ships in.
On 31 December John Burn's grandfather should have been on shore, not on the Protector.
"She was waiting to start boarding pilots on to a number of vessels lying outside and she hit a mine," Mr Burn says.
"It's believed this mine had been dropped the day before to catch a warship. Only the Germans got it wrong - she left the day previous."
The explosion shattered families and neighbourhoods. Nine of the dead had lived on just two streets - Trajan Avenue and Baring Street in South Shields.
Ralph Phillips's mother sat at the window "from morning until night" waiting for him.
Because there was no body, she was convinced the Germans had taken him prisoner and he would eventually come home.
The job of river pilot was kept within families, eligibility inherited, and both Mr Phillips' father, also called Ralph, and his grandfather Robert, worked on the Protector.
However, Ralph senior had not been on board that day.
Grieving for two generations, Ralph senior walked the shoreline, looking for bodies.
---
World War One at home
Football-playing munitions women
---
One day, three months later, he found a body floating in King Edward's Bay.
"He waded in up to his neck and pulled the body out," Mr Watson says.
"He didn't know it was his own father."
Seventy-year-old Robert Phillips was the only one found.
He was given an official Commonwealth war grave and was buried in Tynemouth's main cemetery.
Wartime censorship meant the loss of the Protector would be Tyneside's secret until the end of the war.
In 1924 a plaque in memory of the men was put up at St Stephen's and St Aidan's Church, South Shields. They are also commemorated at the Tower Hill Memorial in London.