Seaham Tommy 1101: Town raises funds to buy sculpture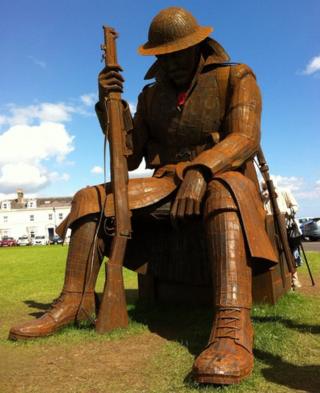 Residents have raised more than £60,000 to keep a sculpture that was on loan to their County Durham town.
The steel statue, by local artist Ray Lonsdale, was so popular that people in Seaham began a campaign to buy it.
The town council has agreed to contribute the remainder of the £85,000 price tag before the 4 August deadline.
The piece, called 1101 but known locally as Tommy, was inspired by World War One and is named to reflect the first minute of peace.
Fundraising group chairman David Stewart said Mr Lonsdale had given the town time to raise money despite already having two offers to buy it.
"It was a big risk for him because we might not have done it," he said.
"Local support has been tremendous, but we've also had people coming from outside of the area to look at him."
There was a similar campaign by Scarborough residents in 2011 to buy another Lonsdale sculpture loaned to their town.