Sunderland International Airshow launch flights grounded by cloud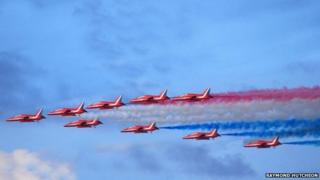 Low cloud has forced the cancellation of flights on the first day of the 26th annual Sunderland International Airshow.
The three-day event started at 18:00 BST and was due to include the Red Arrows.
Councillor John Kelly said organisers "had to take the advice of the air traffic controllers".
Saturday and Sunday's events at Roker and Seaburn seafronts will run from 10:00 to 18:00.
Mr Kelly said clouds were about 150ft (45m) above the ground when a clearance of 1,000ft (300m) was needed for safe flying.
Organisers are hoping to repeat last year's success, when about one million visitors attended.
The Red Arrows are set to close Saturday's action, with an RAF Typhoon flying as the climax to Sunday's activities.
The Breitling team of Wingwalkers and the Blades Aerobatic Team are among other names due to perform on both remaining days.
The BBC World War One at Home tour is also there and aims to help people reflect on the impact the war had on families and communities as well as enabling them to explore their relatives' links to the war.
BBC Newcastle is the official radio station for the show and will be broadcasting from Seaburn and Roker across the weekend.