MH17 crash victim's relatives come home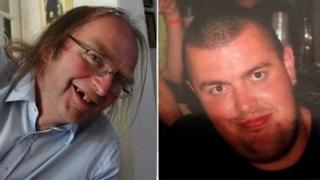 The father and brother of one of the Newcastle United fans who died when Malaysia Airlines flight MH17 crashed have returned from the Netherlands.
Barry and Marc Sweeney travelled to Eindhoven Airport to see the first coffins containing victims' bodies arrive in the country.
Liam Sweeney, 28, was among the 298 people who died when the flight went down in Ukraine last week.
It is not known whether Mr Sweeney's body is among those at Eindhoven.
Forty bodies came in on Wednesday, with more to follow on Thursday.
Barry Sweeney, Liam Sweeney's father, described the time the first coffins appearing as a "very poignant moment".
"All the families were together. It was a very tear-jerking experience when the first coffin came off," he said.
"There's 298 people perished needlessly. I'm hoping my son does come back, but I hope everybody else's does as well."
The family of fellow Newcastle supporter John Alder, 63, who also died in the crash, remained at home.