Baby whooping cough death prompts Northumbria NHS Trust probe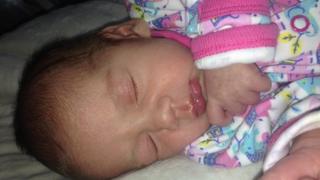 The parents of a baby girl who died of whooping cough have hired lawyers to look into why the mother was not given a vaccine for the disease during pregnancy, at a time of an outbreak.
Five-week-old Violet Herdman, from Morpeth, Northumberland, died on 1 May.
Her parents Emma Sharp, 33, and Colin Herdman, 34, also want to know whether more could have been done to recognise their daughter's symptoms.
Northumbria Healthcare NHS Foundation Trust said it had begun investigating.
The government introduced a whooping cough, or pertussis, vaccination programme for pregnant women in 2012, in response to an ongoing outbreak.
Public Health England guidelines say: "It is important for all women to be offered the pertussis vaccine during each pregnancy whilst the temporary programme is in place."
'Heartbreaking'
Violet was born prematurely in March and was discharged from Wansbeck General Hospital 10 days later as a healthy baby, despite feeding difficulties, her parents said.
But she was admitted to North Tyneside General Hospital a further two times after breathing and feeding problems.
Her mother said she had to resuscitate her after she stopped breathing and turned blue on one occasion.
Violet was eventually diagnosed with pneumonia and sent to the Great North Children's Hospital in Newcastle, but suffered a full cardiac arrest.
It was then, her parents said, that doctors told them Violet had whooping cough.
They said they then took the decision to allow her life support machine to be switched off, after doctors told them there was no hope.
Ms Sharp said: "We only had two weeks of her at home. It's absolutely heartbreaking.
"Colin and I need answers about why I was not offered a vaccine and why no link was made between Violet's symptoms and whooping cough."
A spokesperson for Northumbria Healthcare NHS Foundation Trust said: "We would like to extend our sincere condolences to Violet's family for their tragic loss earlier this year."
The trust said it had already launched a "thorough" investigation into Violet's death and that it would be "inappropriate" to comment further while enquiries were ongoing.