Malaysia plane crash: Family awaits victims' journey home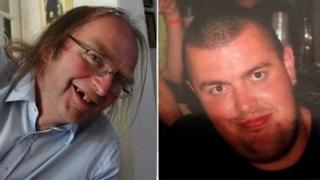 The family of a Newcastle fan who died in a plane crash in Ukraine have flown to The Netherlands as the first planes carrying victims' bodies arrive.
Liam Sweeney and John Alder were travelling to watch Newcastle's tour of New Zealand when their flight crashed.
Mr Sweeney's father Barry and his brother Marc have flown to Eindhoven Airport ahead of the arrival of 40 coffins at 16:00 BST.
Some 298 people were killed in the crash in eastern Ukraine on 17 July.
They included 10 Britons, including Mr Alder, 63, and Mr Sweeney, 28.
An online fundraising page set up in memory of the two Newcastle supporters has now reached more than £30,000.
Sunderland AFC fans set up the page to raise £100 for a floral tribute, but the total is now in the thousands, with nearly 3,000 people making donations.
On Tuesday, Newcastle United paid tribute to the two fans who died, by laying wreaths on the seats the victims would have occupied in the Forsyth Barr Stadium in Dunedin.
The tributes followed a memorial service held on Monday at Newcastle's St James' Park.